I'd like to consider myself as somewhat of a self-proclaimed expert when it comes to Christmas movies. I love this time of year just as much as the next guy, so when Netflix Christmas movies started popping up on my screen, I couldn't help but dive in as soon as I could. I'm talking back to about a week after Halloween ended, I jumped right into the holiday film fun on a flight to Boston where I watched How the Grinch Stole Christmas. And according to all of social media, I know I'm not alone in getting festive early. The holly jolly feels are real this year, so I'd like to gift you an early X-mas surprise.

I've watched a bagillion Netflix Christmas movies already this year (at least it feels that way,) so I decided to rank my top 16 holiday film favorites into a list from worst to best for you! Hopefully you find this list helpful when you're ready to sit down with a steaming cup of hot cocoa, fuzzy socks on, and remote in hand as you scroll through the endless possibilities Netflix has to offer. Enjoy!

Netflix Christmas movies you should watch this holiday season
#16: Christmas Break-In
This movie was one of Netlifx's newly-available originals this year. It's about a little girl who gets forgotten at school during a snowstorm just as the school is being closed for winter break. It takes on some "Home Alone" aspects as the little girl attempts to save the day from crooks who try to hunker down in the abandoned school until the storm passes.

It's one of the cheesier Netflix Christmas movies out there right now, but it's still cute and totally worth a watch─especially if kids are around!

#15: Santa Girl
Featuring the actress who played Harper in Wizards of Waverly Place, this movie is about how the daughter of Santa Claus wants to try living a normal life even though she is to be married to Jack Frost's son in order to "merge businesses." Santa agrees to let his daughter try college in the human world, but while she does so, things get…Frost-y.

Oh, and the guy who played Ned from Ned's Declassified was also in it. That threw me for a loop, but it was an oddly pleasant surprise.

I have so many questions about his hair though…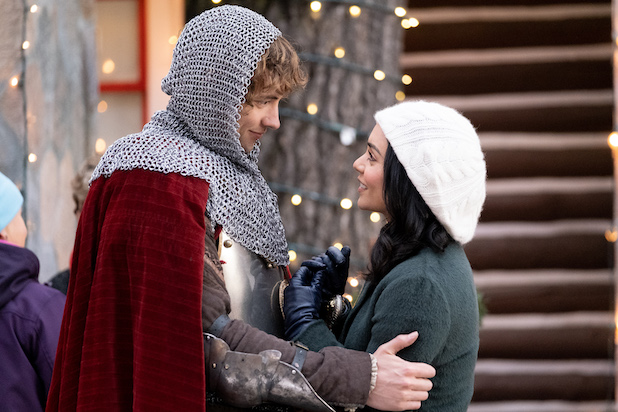 #14: The Knight Before Christmas
Another original Netflix Christmas movie, the concept of this one is a bit─odd─to say the least. The idea is that a knight from the medieval times gets sent to the present-day to fulfill his quest. He meets a woman (Vanessa Hudgens) who helps to bring back his memory, which she thought he lost after she hit him with her car, but in reality he's just being his true knightly self. Things happen, love is a part of it, and voilà…another cheesy Netflix Christmas movie.

The Knight Before Christmas screams Hallmark, so if you're into that kinda holiday feel-good cringe, you should give this one a watch.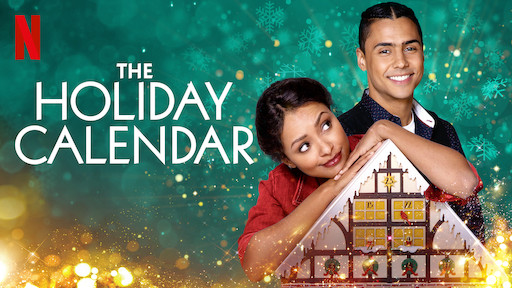 #13: The Holiday Calendar
This is another one of those original Netflix Christmas movies that's got 'feel-good' written all over it. The main character, the actress who played Bonnie in The Vampire Diaries, is gifted a magical antique advent calendar. She comes to find that each toy in the advent calendar predicts something that will happen to her that same day. This story is super cute if you enjoy a little mystery in your holiday fun.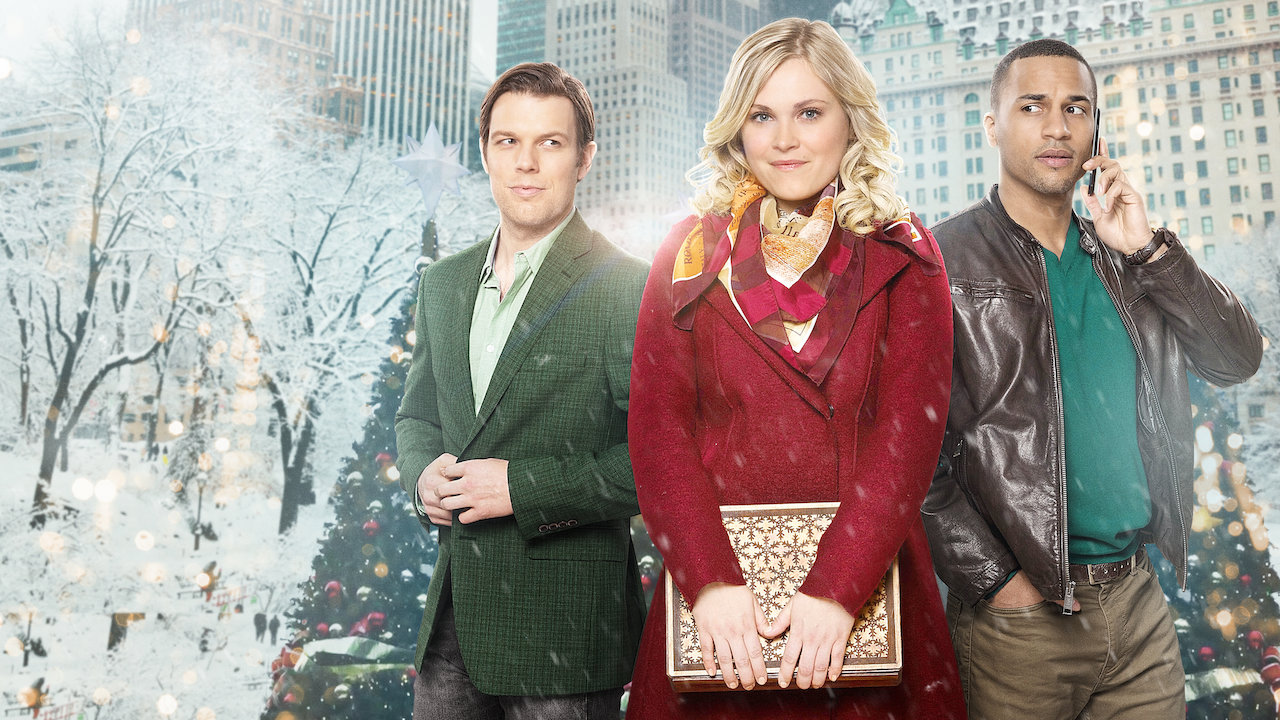 #12: Christmas Inheritance
The actress who plays Clarke in The 100 plays the main character in this cute flick. She is meant to inherit the family business and become CEO of her father's company, but first she must carry of a family tradition and return home to where it all started. She meets the town folk and a man (go figure) who all teach her a thing or two about love and the true spirit of Christmas.

10/10 would recommend this Netflix Christmas movie, if you're up for a feel-good film.

#11: Holiday Engagement
Holiday Engagement is similar to Holiday in Handcuffs, if you've ever seen that one, except there's no handcuffs and no laws were broken (aside from identity fraud.) The main character gets dumped right before her and her fiancé are supposed to meet her parents for the holidays. Since her mother is a bit of a hater, she feels pulled to pay an actor to play her now ex-fiancé, and I'm sure you can assume how the rest plays out.

Not a bad Netflix Christmas movie. Check it out, if you enjoy watching awkward moments.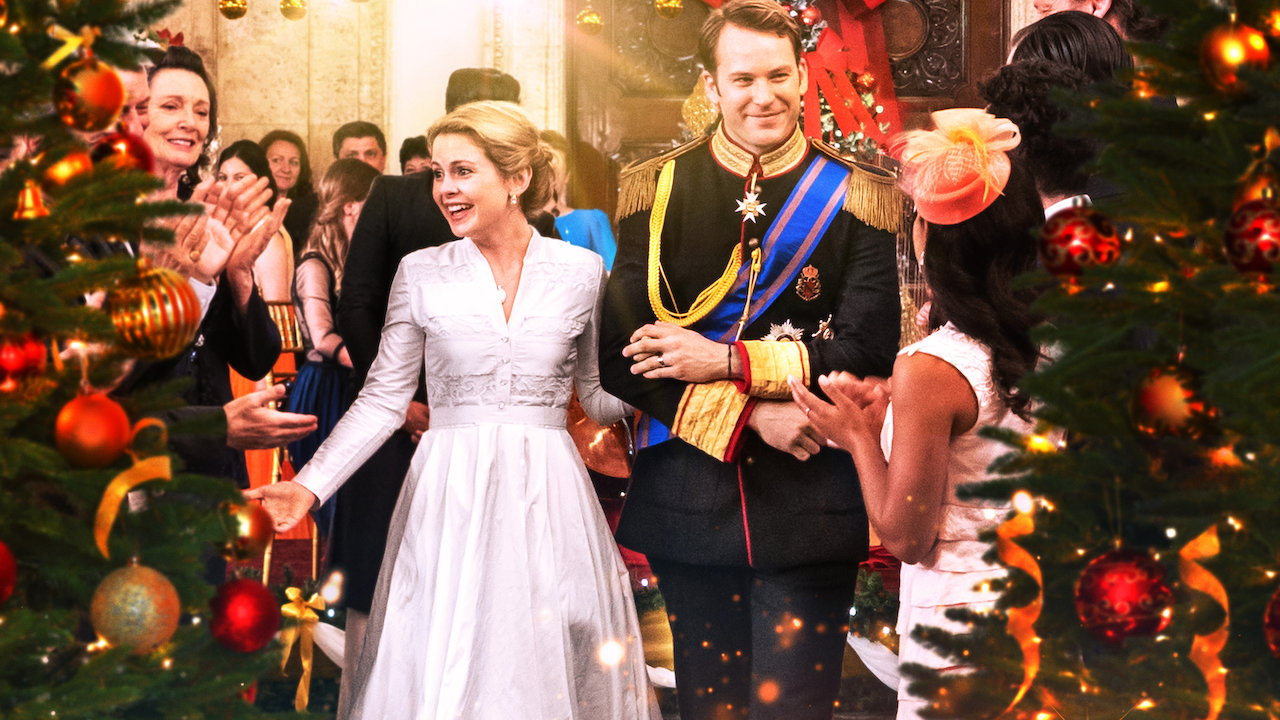 #10: A Christmas Prince: The Royal Wedding
A sequel to the original A Christmas Prince, this title pretty much says it all. Things get real between the king and his future bride as the wedding draws closer. These movies give me a holiday-ified Princess Diaries feel, as the soon-to-be queen uses her normalcy from New York life to help those less fortunate and helps to figure out where the country's money is disappearing to.

I definitely suggest watching this after giving the first one a gander.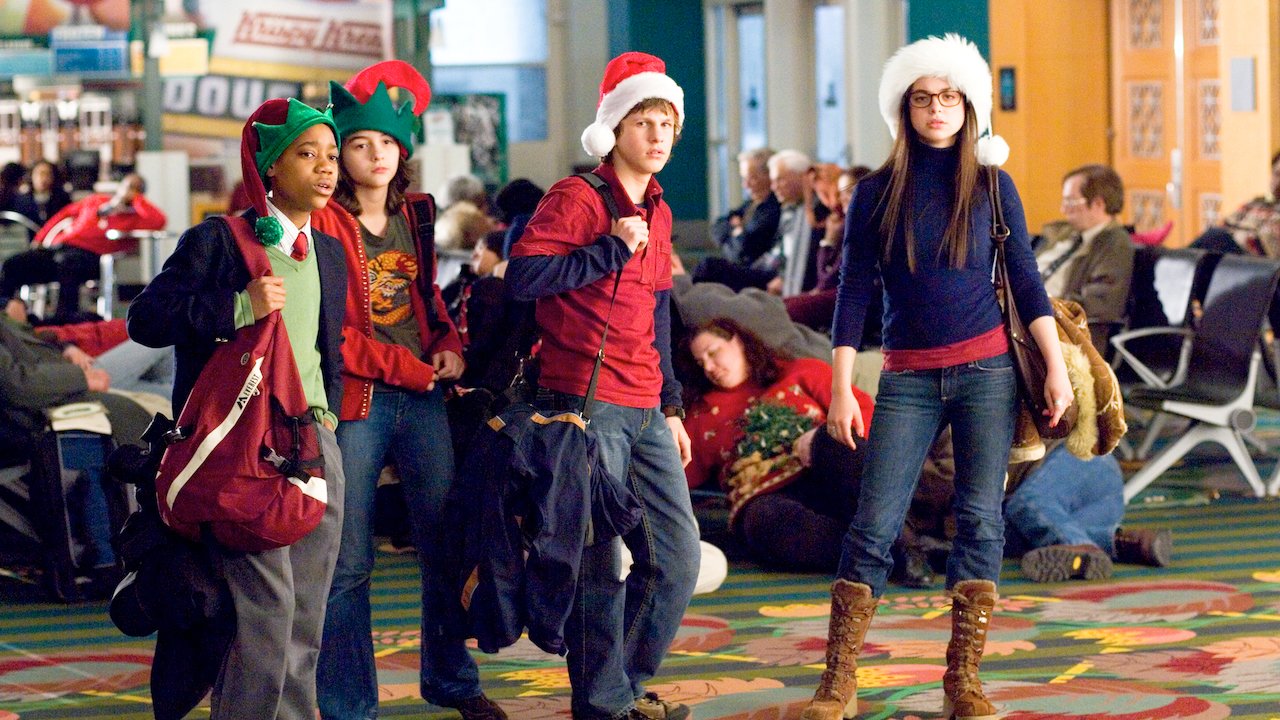 #9: Unaccompanied Minors
This flick is about a bunch of kids getting stuck at an airport when a snowstorm hits on Christmas Eve. A group of rule-breakers run wild, as airport security attempts to control them throughout the night. Unaccompanied Minors was one of my favorite holiday movies to watch growing up and still is to this day. With comedian Lewis Black and actor Wilmer Valderama, this movie is bound to bring you some giggles.

Perfect for kids and adults!

#8: Let It Snow
New this year, Let It Snow is a compilation of storylines about these teenagers who live in the same snowy town. You'll see various love stories, broken hearts, and friendships grow. This Netflix Christmas movie stars popular actors like Kiernan Shipka (Sabrina,) Isabela Merced (Dora,) and Joan Cusack (IMDB her…she's famous for a lot.) I really liked this movie a lot. It's a good one to add to your list for sure!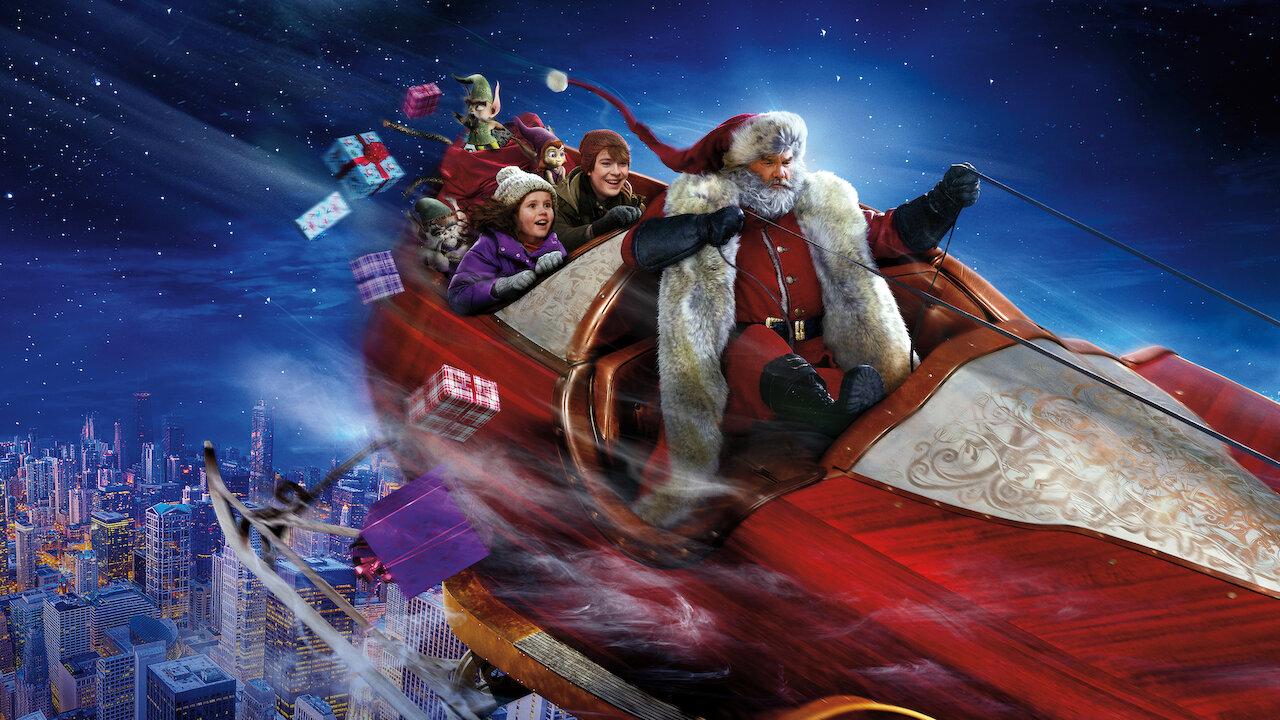 #7: The Christmas Chronicles
Cute, cute, cute! The premise of The Christmas Chronicles is that a little girl and her brother secretly catch Santa, but then decide to climb into his sleigh, which (understandably) scares the poor guy when they're flying thousands of feet in the air and they decide that then is the best to say hi. This causes them to crash in a city far away from home where they have to try to help Santa fix his sleigh in time to save Christmas.

Did I mention this Netflix Christmas movie is cute? Cause it is! Watch it with the whole family or alone. It's perfect for everyone.

#6: A Christmas Prince
The first in a series of (now) three original Netflix Christmas movies, A Christmas Prince is about an up and coming reporter in NYC who gets assigned to get the dirty deets on the soon-to-be king of a made up country called Aldovia. She sneaks in and pretends to be the princess' new tutor in order to get a closer look into who the prince is, and boy does she find out some juicy stuff.

Watch this Netflix Christmas movie in order to confirm your suspicions on how this very obvious storyline ends!

And now for the top 5─Can I get a drumroll please?…
#5: The Princess Switch
Another Vanessa Hudgens favorite, The Princess Switch is a popular original Netflix Christmas movie. A "plain Jane" baker from America travels to a royal land for Christmas to compete in a baking competition. Things get a bit crazy when she meets her doppelganger, aka the princess, and they decide to switch places for a few days. Both her and the princess come to find their true selves and love in the most unexpected places.

#4: Christmas with the Kranks
Known for his role in The Santa Clause films, Tim Allen has become a staple in holiday film entertainment. In Christmas with the Kranks, his character and his character's wife (Jamie Lee Curtis) decide to cancel Christmas for themselves and go on a cruise with the money they save. When their very jolly neighbors find out, they're not too keen to be accepting of this idea.

If you want a good laugh, this one's for you. Although mostly kid-friendly, this Christmas with the Kranks is more-so aimed toward the adult audience.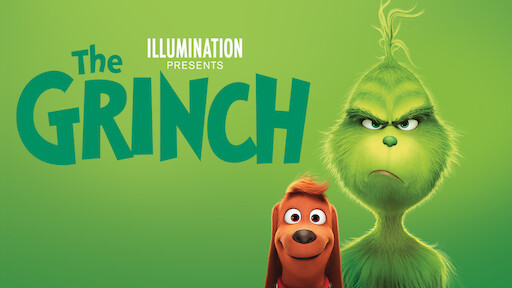 #3: Dr. Seuss' The Grinch
The newest animated version of The Grinch is super cute! With Benedict Cumberbatch voicing the Grinch, himself, and Pharrell Williams narrating, this movie is a fun twist to Dr. Seuss' classic story…except this time there's really fun/catchy music and other well-known voices throughout!

Definitely a must-see for to get into that holiday spirit!

#2: Klaus
As far as original Netflix Christmas movies go, Klaus has got to be one of the greatest out there. This new addition tells an amazing story of how Santa Claus came to be based on the old-fashioned snail mail system. The animation of this piece is super cool and the story is silly enough for everyone to enjoy. It's definitely in the instant classic category for me. I know I'll be putting this one on my go-to list year after year.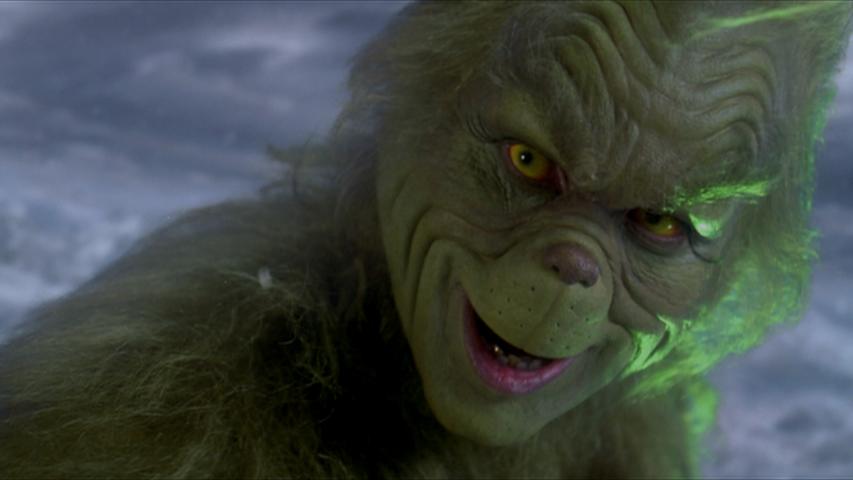 #1: How the Grinch Stole Christmas
Our number one has been a crowd favorite for the better half of two decades now. The live-action story of the Grinch and his maniacal plans to ruin the Whos' holiday traditions is, without a doubt, the best Netflix Christmas movie available this year. It's a heart-warming story that teaches young ones about the power of love and remembering what the true spirit of Christmas is. It also has a healthy dose of adult humor, as well, so this'll be a great option for the whole family!

Now, if only they'll add other favorites like Elf, National Lampoon's Christmas Vacation, A Christmas Story…
If you find yourself smashing through this list of Netflix Christmas movies super early, like I did, you'll be excited to know that there's more! If you've ever seen Netlflix's Nailed It!, you'll know just how fun and addictive that show is. Well the good news is that Netflix has aired their newest season of it and this time it's the holiday edition…so get to binging! On top of that, there's a brand new 'flix series called Merry Happy Whatever. This show is a sitcom about a family who goes all out for Christmas. With famous stars like Ashley Tisdale, Dennis Quaid, and Bridgit Mendler, this cute show seems like it'll be a new watching tradition each holiday season.

Oh, and I can't forget to tell you about A Christmas Prince: The Royal Baby! That's right, the third movie in the popular Netflix series will be released this coming Thursday, December 5, 2019. Be sure to keep your eye out for that and let me know in the comments where you think it belongs in the ranked list above!

~Merry Christmas & Happy Binging~

Sincerely,

Tayler Lee
P.S. It's still technically fall (especially down here in sunny Florida,) so be sure to check out How to Celebrate Fall in a Single Season Climate
**This ranked listing of Netflix Christmas movies was in no way influenced by Netflix. This was just a good ol' fashioned critique of the movies they have to offer this year.